The Attic: Michael Feiner & Eric Amarillo
Posted on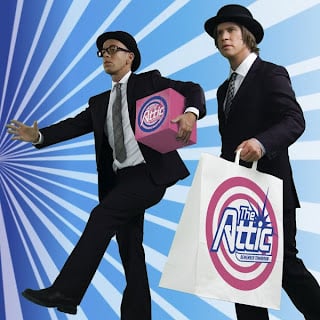 Today, I would like to pay tribute to The Attic and one of the greatest pop albums of the 00s: "Remember Tomorrow"
The Attic I am talking about is those guys, not to be confused with those guys (iTunes and others seem to have them mixed up)!
Hunky and Funky
The Attic are (were?) Swedish DJs/songwriter-producers Michael Feiner and Eric Amarillo, two childhood friends who started in 2003 as "Stereopol", subsequently re-branded themselves as "The Attic", and now go by their stage names "Michael Feiner & Eric Amarillo", both together and separately.
Michael Feiner is the hunky one, also on lead vocals and saxophone. Eric Amarillo is the funky one, also on guitar...
Discography
After it's initial success on the Swedish dance charts with the singles "I Just Can't Help It" and "Destiny" (2003), The Attic released their debut album "The One" independently in 2006, and re-released it as "Remember Tomorrow" in 2007, with an expanded tracklist, and through EMI Music Sweden.
I discovered The Attic thanks to "Soundic Radio" which I recommend to anyone interested in keeping up with what's playing in the "Land of Pop" (Sweden) (check them out in iTunes under Radio / International)
To me, their music a winning combination of great pop songwriting (satisfying melodies, catchy hooks), and exciting dance/house production. Every song on "Remember Tomorrow" is a killer. It's definitely one of my top 5 favorite albums of the 00s. The title track is perhaps my favorite, it's pure pop, less dance, so uplifting, Michael Feiner's vocals are particularly good, and that final modulation is magical.
While the album did well in Sweden, it should have gone global and sold millions around the world! What happened? Whoever was in charge of their marketing at EMI really messed up!
Where are they now?
Both Michael Feiner and Eric Amarillo remain very active as live/touring DJs, producers, remixers and artists, occasionally together, but mostly separately these days, as well as with other collaborators.
As a recording band, however, they seem to be on a hiatus.
Eric Amarillo topped the Swedish singles charts in May 2011 with "Om sanningen ska fram" and last month released new track "Avatar" (good song and cool video! ;-))
Michael Feiner has also kept busy and just released a preview of upcoming track "I Do" featuring Caisa.
They have also released a couple of tracks as "Michael Feiner & Eric Amarillo" including "Music Will Turn You On" (2010), "Sensation" (2011) (great track) and others, less pop and more dance.
All of that's really cool, but "The Attic" was something special. So come on, guys! Remember tomorrow!
More music from Michael Feiner & Eric Amarillo