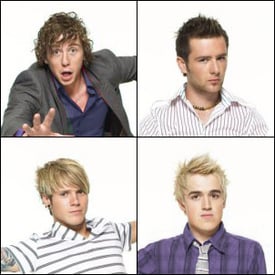 McFly – named after the "Back to the Future" character - is a British pop-rock band that formed in 2002 and has released 5 studio albums since 2004, scoring a string of hit singles mostly in the UK, Ireland and Europe. They will be touring the UK March-April 2012, with some additional festival dates in June.
McFly is an increasingly rare example in the pop world of mostly-self-contained good songwriting/musicianship – i.e. a band writing their own songs and playing actual instruments.
Tom Fletcher (guitar/keyboards) and Danny Jones (guitars) share lead vocals and are the principal songwriters, with Dougie Poynter (bass) and Harry Judd (drums) also co-writing many songs...
(pictured clockwise, from top-left: Danny Jones, Harry Judd, Tom Fletcher, Dougie Poynter)
The style is very upbeat, young and fun, both musically, lyrically, in the videos and band member dynamics (all four members are still fresh-faced and in their mid-20s).
The sound is very indebted to Bryan Adams, The Beatles or even Jellyfish. A prime example of this is "Star Girl" – their strongest song to date IMHO – which has the raw energy and memorable hook of a young Bryan Adams, with the bridge ("middle-eight") typical Jellyfish. The latest studio album to date – 2010's "Above the Noise" crossed over to include dance/R&B grooves, with production by the likes of Dallas Austin.
Here's a small selection of some my favorite McFly songs. The videos for "Star Girl" and "Room on the 3rd Floor" are particularly cool and the full playlist is on my YouTube channel:
And of course, if you like McFly's music, you might also enjoy this… ;-)