No More Chasing You: New Lyric Video!
Posted on
"No More Chasing You" is track no.6 on the album "So That's How It Ended…".
It was co-written with lyricist Gavin Clifton and features Kelly Erez on vocals.
I have released today its lyric video on YouTube.
Songwriting
"No More Chasing You" is the first song I wrote with Gavin. We connected through David Stark's SongLink tipsheet. Gavin sent me a bunch of lyrics and one of them, "No More Chasing You" caught my attention.
I wrote the music on the piano, tweaked a few lines to make it fit the music better, then emailed Gavin a piano-vocal "scratch track" (Gavin lives in Wales, I'm in London):
Gavin is a very enthusiastic guy, full of positive energy and always inspiring. He liked the direction of the song and we finished fine-tuning the lyrics together.
The song structure is very "utilitarian" and totally fat-free! No intro, no outro, no instrumental or superfluous section. It starts with a cold open on the verse, then onto pre-chorus, chorus, back to verse etc., with a tag/bridge after the second and subsequent choruses, and a cold ending that (hopefully) makes you want to play it again!
Production
My goal with "No More Chasing You" was to make a contemporary-sounding pop track. I always get the comment that my music "sounds 80s" and that's fine – the 80s were a magical era for pop music and have never really gone away – but I don't really hear any obvious 80s influences on this particular track. It's a fairly simple but sonically satisfying production, it has a very clean sound and I think it is one of my best-sounding tracks.
When building it, I always had Demi Lovato's "Cool for the Summer" in mind: not so much sonically – our tracks don't sound remotely similar – but visually (love the music video!) and thematically (with the defiant girl posse!). I think some of it made it into the track.
The drum beat was programmed with Battery ("Mirrorball Kit") while the drum fills were played on an electronic kit and rendered with a blend of Studio Drummer ("Session Kit – Lite: Hard Rock") and Roland FA-06's "PowerSession".
The bass is XPand2's "Simple Analog Thumper".
The main synth pads are Roland FA-06's "Cutter>MudWh" on the verses and "Sweep Pad 14" on the choruses.
Lead synths include FM8's "Epia" on the verses, FA-06's "Teko Ld 35" and StructureFree's "Nice Saw Lead" on the choruses.
The two guitar parts are played with RealStrat and GuitarRig5's "Classic 70's Wah" and "Summer Rox" effects presets.
Finally, I sprinkled a couple of sound effect samples for added excitement!
Kelly Erez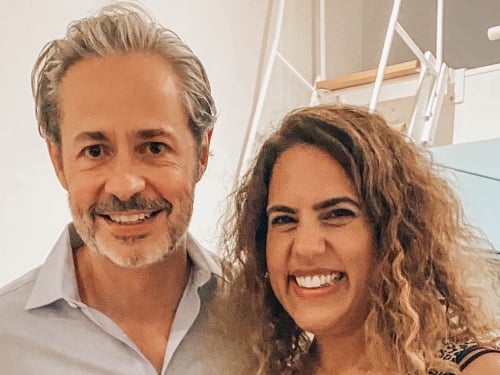 Kelly is an extremely talented and successful pop/R&B singer-songwriter with multiple releases to her credit, as well as a vocal coach. Many in Britain will recognise her from her 2021 appearance on the BBC show "I Can See Your Voice". Gavin suggested that we ask Kelly to lend her voice to our song.
The recording took place at my London home studio. Kelly was super-pro, very quickly nailed the parts, always ready to try another take, and always with a big smile, making the session really relaxed and fun.
Credits
Music: A. Robin
Lyrics: Gavin Clifton & A. Robin
Vocals: Kelly Erez
Instruments: SuperCool-Guy
Arrangement, mix and production: SuperCool-Guy
Mastering: Jon Astley
Lyrics
I can only give you what I am
If that ain't enough, oh please don't waste my time
I needed you to be a man
If you can't take me, baby that's just fine
Pre-Chorus:
I just, I just don't care
About the way you're looking over there
CHORUS:
There won't be no more chasing you
Down that one-way street
Tryin' to show you how I feel / All I hear's a dead-end beat
There won't be no more chasing you
All I get's a blank stare
Like I'm not even there
Boy, it's true
I'm moving on, I'm through
I'm going out on the town tonight
Me and my girls we're gonna shut it down, yeah
No wasting time on wandering eyes
I gotta go, maybe I'll see you around
Pre-Chorus
CHORUS
Bridge:
Time to move on, time to move on, time to move on, let it go!
x3
I'm moving on, I'm through
CHORUS
Bridge