If you like dance music of any kind and aren't familiar with Cerrone, it's time to get back to basic… and I'm here to help!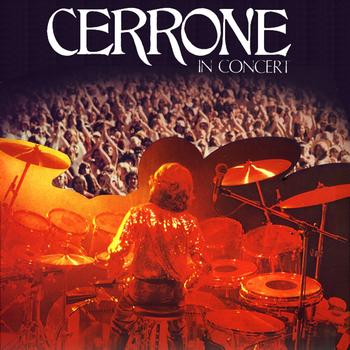 French drummer, composer and producer Cerrone is best known as a pioneer of disco music in the 70s and early 80s. His sound later branched out into pop-rock and electronica, fed on collaborations with top international musicians and singers, and was staged into large-scale "event" concerts around the world in the late 80s and 90s. He's enjoyed continued international success in the new millennium and is often cited as a major influence by the top dance artists and DJs of today...
Supernature / Sweet Drums
I first became aware of Cerrone with "Supernature" in 1977. The song was a huge hit in France. It was a blend of disco and electronica that made a very big impression on me. From that moment on, I was hooked on the sound of Cerrone.
Cerrone was not your typical singer/artist. He wasn't a singer, he wasn't a band: he was a drummer, and he had the biggest, most amazing looking drum kit you'd ever seen. He was this average, unremarkable-looking guy, always surrounded by sexy, naked girls.
I was a shy kid and I wanted to become that. I could see myself play the drums. This became an obsession and I eventually got my parents to buy me a drum kit and lessons. I might not have gotten into music if it hadn't been for Cerrone and "Supernature". The influence may not be obvious in SuperCool-Guy's music, but it is there in the visual elements and in the fact that I started as a drummer and evolved into a songwriter/producer.
The Golden Touch
"Cerrone VI: The Golden Touch" came out in 1978 as a perfectly formed 4-track album: "Je Suis Music", "Rocket In The Pocket", "Look For Love", "Music Of Life". Four classics, all trim, and no fat. To me, this is the best Cerrone album and a perfect statement of the "Cerrone formula": a massive kick drum, beautiful melodies, lush arrangements complete with string and horn sections, a chorus of female vocalists, and a very sexy feel throughout.
Expanding soundscapes
As early as 1977's "Cerrone 3", it was obvious that there was more to Cerrone than just "disco" music: "Supernature" was a fusion of electronica and disco, and the instrumental "In The Smoke" was ambient electronica reminiscent Jean-Michel Jarre. Both tracks had heavy sci-fi overtones. The parallels with Jarre do not end there, as both artists subsequently made careers out of staging large-scale "event" concerts around the world incl. Paris, Tokyo and Los Angeles.
More recent forays into electronica include the 2006 "Orange Mecanique" soundtrack written for a French staging of "Clockwork Orange" and 2010's "Cerrone Symphony: Variarions of Supernature".
Pop-Rock-Funk fusion
With "Cerrone V: Angelina" (1979) and "Cerrone VI" (1980), the sound started to evolve into a kind of pop-rock fusion with Cerrone venturing lead vocals ("Rock Me", "Angelina", "Panic", "Time Is Running Down"). These two albums are among my favorites and I personally would have liked a few more in the same vein...
The "disco" sound also gradually evolved into West Coast/LA "funk" (1982's "Cerrone IX: Your Love Survived", 1983's "Cerrone X: Where Are You Now").
The rest of the 80s and first half of the 90s was notable for the large-scale live shows and a series of collaborations with top international artists including Toto, Nile Rogers and Laura Brannigan.
The new millennium
2001's "Cerrone by Bob Sinclar" re-introduced the master to the dance floors and cemented his cult status for a new generation of kids.
2002's "Hysteria" was Cerrone's first studio album since 1994 and also one of his best – with stand-out tracks "Hysteria", "It Had To Be You" and "The Only One" bringing a fully-updated "House" sound to the new millennium, along with more experimental tracks such as "101" and the down-tempo "Wake The Beach".
Cerrone has kept up the momentum with 2007's "Celebrate", and a flood of remixes and collaborations in recent years with the likes of Jamie Lewis, Joey Negro, La Roux and others. I personally look forward to more original studio tracks!
Check out my YouTube channel for a few Cerrone favourites (attention! Most are NSFW - Not Safe For Work)