KISS – Part 1: Through the eyes of a fan
Posted on
I've loved KISS since before I was a teenager. I was first attracted by their outrageous look and soon became a fan of the music.
The cool, tough kids at school would draw the KISS logo on their denims, wear the t-shirts and buttons... I would soon draw the logo and the four distinctive make up designs everywhere and on every page of my school exercise books; every wall in my room was covered with posters of Love Gun/Alive II-era Gene, Paul, Ace and Peter. The inside cover of Alive II was the pinnacle of wow! They were the coolest band and I was hooked on the image and mythology even before I became a fan of the music…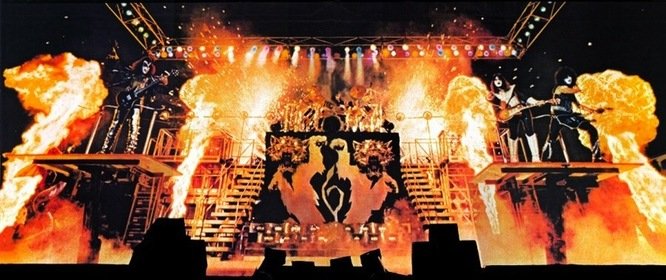 KISS Alive II inside cover
This was long before the Internet and MTV, and KISS never got any airplay in France – apart from their one and only radio hit in that country: 1979's "I Was Made for Loving You" – so the only way you'd discover their music back then and there was either through friends, by reading the rock magazines, or by hanging out at the record stores. All of which played a big role in my musical education, but perhaps none more than my good Scottish friend Scott Grant in the summers of '79 and '80…
Record collection
The first KISS record I ever bought was the "Strutter '78" single, shortly followed by the "I Was Made for Loving You" single.
The first album I bought was "Unmasked" – which to this day remains one of my favorite albums, perhaps because it was the first, perhaps because it was the poppiest... most of the fans hate it precisely for that reason and the band themselves have often dismissed it in interviews. That's a shame: It's got great songs, a really polished sound, and – considered within the context of their entire career – gives the band some added depth. How boring if all 20 studio albums had sounded the same! From Paul's opening scream on "Is That You?" to Gene's closing scream on "She's So European" (actually more like a beastly growl followed by an impressive, sustained falsetto), it's just one amazing track after another.
The next record I bought was "Alive II" which was equally if not more amazing and I gradually completed my collection with Destroyer, Love Gun, Dynasty, Alive!, the 4 solo albums and every other album up to that point, following the band through their various subsequent phases up to this day.
Favorites
My other favorite KISS album is probably "Creatures of the Night" – great album cover, great title, great songs (from the title track to "I Love It Loud" and "War Machine": 9 outstanding tracks and not one filler), and the heaviest, most powerful drum sound on any record – it hasn't been beaten before or since. This was a re-energized and focused band, with great contributions from Eric Carr on the drums, Vinnie Vincent on songwriting and guitars, and a couple of outside co-writers including Bryan Adams and Jim Vallance on two tracks.
"Destroyer", "Love Gun", "Lick It Up", "Crazy Nights", "Revenge" and "Sonic Boom" also rank among my favorites... but then again how could I leave out the first 3 classic albums "Kiss", "Hotter than Hell" and "Dressed to Kill"? In truth, Kiss haven't put out a weak album in their entire career.
Comic books and toys
Being a comic book fan, it wasn't long until I got my hands on the original KISS Marvel Comic Super Specials! (1977/78, now signed by Gene and Paul), continued with the Image/McFarlane "Psycho Circus" comics (1997-2000), the Dark Horse comics (2002-03), the Platinum Studio "Kiss 4K" comics (2007-08), the KISSTORY book (signed) and many of the McFarlane toys.
You can't be a completist with KISS merchandise, but there's just too much of it, but it's fun to pick and choose the cool items! It's just an added dimension to the KISS experience that other bands don't offer.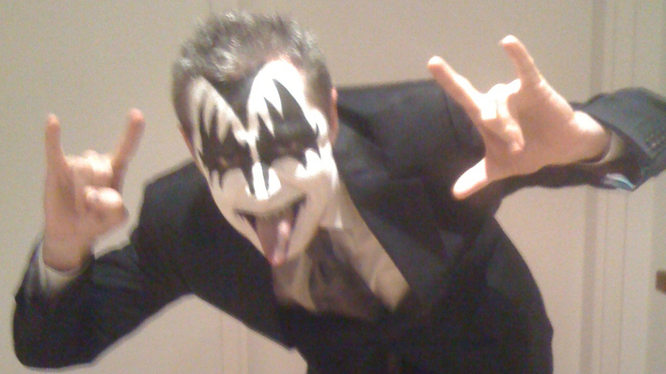 SuperCool-Guy as "The Demon", Halloween 2010
Four individuals
As a drummer, Peter Criss was a big influence and I played along all the albums until I knew every song, every drum break, and every lyric by heart.
KISS always cultivated their four different personalities and I loved the fact that every member would sing and write songs. This probably encouraged me to expand beyond the limitations of the drum kit and experiment with singing and song writing.
I admired and felt that I "connected" with all four original members, each a great songwriter and musician in his own right. In later years, I got to appreciate Gene and Paul as two mavericks, two genuinely talented, smart and articulate individuals – miles from the rockstar stereotypes – each with his own inspirational outlook on life.
Concerts
My first Kiss concert was during the "Lick It Up" tour – it was good of course, but perhaps the only time that KISS hadn't completely lived up to my sky-high expectations: the band had just given up the makeup, Ace and Peter were gone, and the pyros had been scaled down – for many years I lamented that I had "missed the boat" and would never get to experience the legendary show, with full makeup and pyros...
That is until the 1995 reunion made my dreams come true – Madison Square Garden, I was there (twice!) and 15 years later, KISS, you blew me away. The show was everything I'd dreamed of and more – thank you!
To date, I've seen KISS in concert a dozen times and I have been lucky enough to meet-and-greet with the band, and with Gene a few more times. Each time, it's been an amazing experience. The band isn't showing any signs of mellowing down: my last KISS concert (London 2010) was one of the best ever!
I was there!
KISS Concerts:
October 31, 1983 – Paris, Zenith (Lick It Up Tour)
November 5, 1985 – Paris, Zenith (Animalize Tour)
March 30, 1988 – San Francisco, CA, Civic Auditorium (Crazy Nights Tour)
May 6, 1990 – Austin, TX, Frank Irwin Center (Hot in the Shade Tour)
May 9, 1992 – New York, NY, The Ritz (Club date warm-up – Revenge Tour)
July 30, 1995 – New York, NY, Roseland Ballroom (Kiss Konvention – unplugged set + meet-and-greet w/ Gene Simmons, Paul Stanley, Bruce Kulick & Eric Singer)
July 25, 1996 – New York, NY, Madison Square Garden (Reunion Tour)
July 27, 1996 – New York, NY, Madison Square Garden (Reunion Tour)
November 23, 1998 – New York, NY, Madison Square Garden (Psycho Circus Tour)
June 9, 2000 – Jones Beach Amphitheater, NY (Farewell Tour)
June 15, 2008 – Nijmegen, Netherlands, Arrow Rock Festival (Alive/35 Tour)
May 12, 2010 – London, Wembley Arena (Sonic Boom Over Europe Tour)
Gene Simmons:
August 2002 – San Diego ComicCon (meet-and-greet)
July 28, 2007 – San Diego ComicCon (meet-and-greet)
Paul Stanley:
June 1999 – The Phantom of the Opera, Pantages Theatre, Toronto
Ace Frehley:
March 28, 1990 – Austin, TX, The Back Room
April 11, 2008 – London, The Astoria Theatre
Monster
For those of you who haven't kept up with KISS, the band just finished recording their 20th studio album (24th if you count the 1978 solo albums), tentatively titled "Monster" and due for release in June 2012. If the previous release – 2009's "Sonic Boom" – is anything to go by, this could be another classic in the making... I will be reviewing it here as soon as I get my hands on it!
(to be continued in part 2)