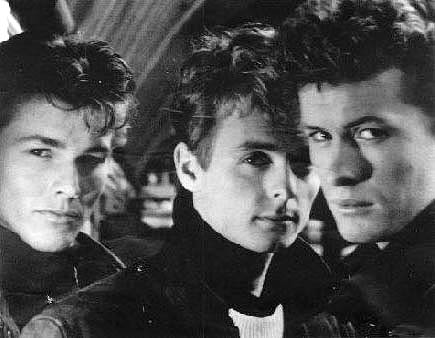 I've been struggling to find songs/artists that sound like "Whatever You Do"… in fact I haven't really found any, but perhaps a-ha comes closest…
a-ha is of course one of the all-time great pop bands.
The band formed in Norway in 1982, broke through on the world scene in 1985 with their landmark song and music video "Take On Me", and went on to release 9 studio albums over the following 25 years, finally calling it quits in 2010.
Paul Waaktaar-Savoy (pictured, center) is the main songwriter and possibly driving force behind a-ha.
Morten Harket (pictured, left) is the voice and face of the band, with his distinctive falsetto, wide vocal range and enduring boyish good looks.
Magne Furuholmen (pictured, right) completes the formula on keyboards and guitars.
a-ha songs always have beautiful melodies, often bitter-sweet, moving, full of nostalgia and emotion. The brilliant songwriting is served by immaculate production, grand arrangements – combining synthetic and organic elements – and of course Morten's unique, beautiful voice. The videos are often set in equally grand and awe-inspiring open spaces.
I have made a list of my favorite a-ha songs, and a video playlist which you can watch below or on my YouTube channel…
Foot of the Mountain (from "Foot of the Mountain", 2009)
Analogue (All I Want) (from "Analogue", 2005)
Lifelines (from "Lifelines", 2002)
Velvet (from "Minor Earth, Major Sky", 2000)
Summer Moved On (from "Minor Earth, Major Sky", 2000)
Move to Memphis (from "Memorial Beach", 1993)
Crying in the Rain (from "East of the Sun, West of the Moon", 1990)
Stay on These Roads (from "Stay On These Roads", 1988)
The Living Daylights (from "Stay On These Roads", 1988, and the James Bond movie soundtrack, 1987)
Cry Wolf (from "Scoundrel Days", 1986)
Hunting High and Low (from "Hunting High and Low", 1985)
The Sun Always Shines on TV (from "Hunting High and Low", 1985)
Take on Me (from "Hunting High and Low", 1985)