Interview with Greig Watts, DWB Music
Posted on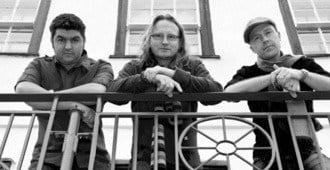 I caught up today with Greig Watts, my co-writer on "One Of The Days" and the "W" in the "DWB Music" songwriting, production and publishing group. Greig told me about his latest hit with Korean superstar BoA, offered some great insights on writing and producing for the "Idol" market, and advice for songwriters trying to break in the business…
(Pictured from left to right: Greig Watts, Pete Barringer, Paul Drew)
One Of These Days
SuperCool-Guy: So Greig, "One Of These Days" is now online… and in last week's blog entry, I wrote a little story of how the song came about. Did that match your recollection? This is your opportunity to set the record straight if I got any of it wrong…
Greig Watts: As far as I remember, what I read was pretty spot on. It brought back memories!
SC-G: After we finished tweaking the lyrics the second time around, and I gave you the MIDI files, the rest was completely out of my hands. Can you tell me how you guys approached the production and recording of the song?
GW: Basically myself, Paul Drew and Pete Barringer, while we were doing the lyrics, were also looking at the production and how we could do it. We were trying to do it as an "Idol"-type single, so we were looking at what the templates for that are, which is key changes at the end, building the song, so each verse gets bigger and bigger. I think we added a key change in the verse also.
These are things we've learned from our meetings with SYCO [Simon Cowell's production company] where they've told us to put "lifts" in every section. They like to have what they call "TV moments" where every 20-25 seconds, almost like the audience gets bored of the song, so you have to lift it to grab people's attention again. Watch "X Factor" and you'll see there's always, every 20-25 seconds, a change in the song which hooks you back in again.
So it was really trying to achieve those things with the production.
SC-G: Yes, I think you guys did a great job. At the end, there's a section that repeats and you added a little change in the melody with the repeat of the last phrase "One of these, one of these days", and I thought that was really cool…: is that something that Maria [Willson, the singer,] came up with or that you guys came up with?
GW: I can't remember, to be honest. When we're recording, we tend to always find another hook, so it might just have been someone saying "let's extend it again", because it felt like a song that was building and building, so we'd always look to add little something extra, every time it turns around.
DWB Music
SC-G: Tell me more about DWB. Tell me who's "D", who's "B" and how did you guys meet and start working together?
GW: We all worked together at another company from about 2004: Paul [Drew] was producer/studio manager, I was writer and publisher, and Pete [Barringer] was a writer/producer. We came to the end of our time there and decided to setup on our own towards the end of 2006. So we setup DWB. The name is very much based on the Stock-Aitken-Waterman idea of just putting our names together into a brand.
SC-G: What are each person's strengths and how do you split the work between the three of you?
GW: It's probably evolved quite a bit over time. Initially, Paul and Pete were very much producer/writers, so would work from the track up, and I was a top-line writer and lyricist. Paul and Pete can top-line as well, but their strength was more production and music, and mine was more the lyric.
I think the nature of those jobs has moved us into Paul and Pete still writing and producing a lot of the songs, and I'm still writing but also do a lot more of the business stuff now. Because I don't have to be in the studio every day just to write a lyric. The lyric takes a lot less time than the production. And to drive the business, someone has to go out there and get the leads and do the various things that enable us to continue writing songs.
We used to sit down and write a song every day between the three of us. Now, we tend to have a meeting in the morning, discuss what we are going to do today, then go on to our three different rooms, and it's just coordinating it as it grows.
SC-G: Do you remember what was your first cut together?
GW: Probably a song called "Never Know", which was done by a Yugoslavian lady called Ivana Banfić. It didn't do amazingly, but the song then got cut by a band called D-SIDE, and then another Belgian artist, but then they changed the name of the song to "Don't Ever Go".
SC-G: At what point did you find that you were starting to get some traction in the business? What was the breakthrough?
GW: It's been different in different countries. For example in Belgium, that song did break a lot of doors and we had lots of hits in that country soon after that.
Japan, which we're doing well in at the moment, was probably thanks to a song called "Dead End" by Tohoshinki (東方神起) [also known as "TVQX" and동방신기or "DBSK" in their native South Korea], which were a big boy band and opened doors there. Then, in the last couple of years, we've had a couple of bigger ones, and that's really opened doors.
Here, in the UK, I'd still say we haven't made it yet. We're still knocking on lots of doors and getting lots of "no"s even though we're getting No.1s in Japan.
SC-G: You mentioned earlier Stock-Aitken-Waterman – they had a very distinctive sound and a in a way had more of an identity than the artists themselves. Would you say there is a "DWB sound"?
GW: Yes, I think you'd recognize it in many of our songs. We also co-write with many other people, so you also get their influences coming in. But I don't think you can be like Stock-Aitken-Waterman, were they deliberately made it a similar sound.
But in terms of the brand, we'd certainly like to do something similar. Like "RedOne" or David Guetta have done, for instance. A lot of it is about branding.
SC-G: What would you say has been your biggest song to date?
GW: We've had a few big ones as publishers. As writers, probably "LoveLife", the lead single from Kate Ryan's last album [Electroshock].
SC-G: That's a nice one. I really like Kate Ryan. She's done a lot of covers of French pop songs from the 80s and given them a great dance makeover. And I love her album "Free". Any other tracks that you're particularly proud of?
GW: All of them really… including the songs that don't even come out… We did another song recently that got released by [South Korean artist] BoA in Japan – "Milestone" – which I'm quite proud of, and she's a very big artist over there. It was written very quickly and it was almost done at the end of a session. So for it to come out as a lead single – that's the magic of it. Sometimes you'll work on a song all day, and at the end you'll have a little idea, and it's the little idea that ends up being picked up. Sometimes, it's just a moment of inspiration at the end of a session.
SC-G: So when you write for those artists, do you actually produce the finished track as well?
GW: It depends. For "Milestone" they used our music, then they had a producer in Japan add their production on top, in Japanese. For Kate Ryan, they re-did it because they wanted a big-name producer. Sometimes, especially when we co-write with the artist, we'll do a lot of the recording here.
SC-G: Any exciting things coming up for DWB?
GW: There's a future Kate Ryan single in the pipeline – I can't give out the title yet. We'll also have more coming out in Japan shortly… we've got [publishing on] a No.1 album in Japan at the moment – with "Run for You" by KAT-TUN (カトゥーン), and hopefully lots more.
Breaking in
SC-G: I've always hit a wall when trying to get my music heard by industry people and that's why now I just put it online. How did you overcome those barriers and what would be your advice for a songwriter who's trying to get their songs heard?
GW: Firstly, if you have a song that you believe is great, the production needs to be as great as the song. For instance, with "One Of These Days" when we were trying to do it originally, we couldn't play it to the top people because the production wasn't there. It had to be re-done. You have to have polished production. I think it's better to have one song that's recorded great and just push it, than a hundred songs that are just OK.
Once you've got that, it's about connecting to the right people and networking.
Also, doing co-writes with anyone you can, because then that means you're connected with their connections.
There's a creative side and a business side: you always need to think "how can I get this creation to the market".
DWB Music Sampler
(click video below for the full YouTube video playlist, or each song title for the corresponding video)