Ayumi Hamasaki (浜崎 あゆみ)
Posted on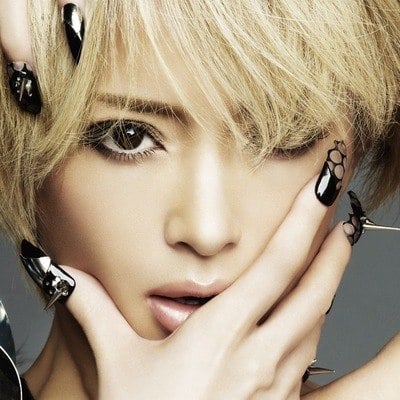 Ayumi Hamasaki (浜崎 あゆみ) is without a doubt, Japan's biggest pop star of the past 15 years.
Ayumi Hamasaki released her 13th studio album last month ("Party Queen").
With 13 albums since 1998's "A Song for xx", 3 EPs, over 50 singles, countless compilation and remix albums, live videos, over 52 million units sold and counting, Ayumi Hamasaki has become the highest-selling Japanese solo artist of all time and has earned the title of "Empress of Pop".
Musical style and collaborators
Ayumi Hamasaki's musical style is a combination of electropop-rock, guitar-heavy power-pop and ballads. It has gotten somewhat "harder" over the years and often features epic production...
Ayumi Hamasaki writes all her lyrics.
She also occasionally composes under the pseudonym "Crea" (most notably on 2002's "I Am…", one of her highest-selling albums to date) and has also collaborated with some of the biggest pop composers and producers in Japan including Mitsuru Igarashi (五十嵐 充) (Every Little Thing), Dai Nagao (長尾 大) (Do As Infinity, usually credited as "D.A.I") and Tetsuya Komuro (小室 哲哉).
She also works with a stable of regular collaborators including HΛL, Yuta Nakano (中野雄太), CMJK, Tetsuya Yukumi (湯极 哲也), Bounceback and others. Her 2011 EP "Five" and latest album "Party Queen" featured 5 songs composed by new "protégé" Timothy Wellard.
Visual style and influence on popular culture
Ayumi Hamasaki isn't the greatest singer, but she is a complete and multi-talented entertainer. She is more than a pop star, she's a fashion and style icon, and an A-list celebrity in Japan and across Asia.
Her concerts and music videos are always lavish and extravagant affairs, and her ability to command an audience – little thing that she is (1m56, 40kg?) – is mesmerizing.
She also manages to re-invent her look and style, over and over again, with every new video, photo shoot and appearance.
In my opinion, the closest comparison in the west would be Madonna, in terms of her cultural impact, staying power, vision, level of control over her own career, and ability to re-invent herself.
Gaijin (外人) complex?
Her name is typically written in roman characters (and often in lowercase, as "ayumi hamasaki") on record sleeves and video credits; her song titles are almost always in English (even though the actual lyrics are in Japanese); her videos often depict idealized western scenes and she often surrounds herself with western models and dancers; the videos for "Party Girl" were shot in London and prominently feature British imagery; she briefly married an Austrian actor;…
I know the feeling: lots of us westerners are fascinated by Japan. Way to go, Ayu! ;-)
Advice for world domination
Ayu if you are reading this: you're the best, you've conquered Japan many times over, there's nowhere else for you to go in Japan – why not conquer the rest of the world now? You can do it!
Step 1. Get your feet wet and create a buzz. Come play small gigs in Paris (France probably has the biggest J-Pop fan base outside Japan), London, New York, LA, etc. There's enough of a Japanese community and international fan base to sell-out 2 to 5,000-seat venues in those cities without any promo. Ask your friends Yoshiki and Utada Hikaru (宇多田 ヒカル): they both did it recently…
Step 2. Take your best 12 songs – the "crème de la crème": TO BE, Fly high, Humming 7/4, fairyland, etc. – and release a greatest hits album for the international market: "This is Ayumi Hamasaki". Re-record the best 3 or 4 in English and release them as singles. You'll need 18 months of serious promo, at least half of that in the USA. Do some festival dates. Don't try to second-guess what foreigners want to see and hear or try to emulate such or such western pop star. Be yourself. Be Japanese. Be different. Lady GaGa's got nothing on you!
Step 3. Make your next studio album in English language. Write as much of your own music as possible. Get D.A.I, tasuku, HΛL and the other guys to co-write and produce. So you can retain the essence of your sound. Just let me write a killer song for you (check out my Music) ;-)!!! Collaborate with top US or UK artists for the lyrics, do a duet with Beyonce or have Jay-Z do a rap intro on your first single, Umbrella-style. This will give you instant visibility. Go on a bigger tour this time. Full production. Show the world how the Japanese do it!!!
Ayumi Hamasaki (浜崎 あゆみ) Top 20 Video Playlist
Here's a small selection of my favorite songs and music videos from Ayumi Hamasaki. This is a personal Top 20 and not a ranking of best-selling hits. Click on the song title to view in YouTube, or view the full playlist below and on my YouTube channel (I have also listed 4 other favorite songs for which an official video is not available on YouTube).
All lyrics by Ayumi Hamasaki (浜崎 あゆみ)
From 1998's "A Song for xx":

Depend on you (Music by Kazuhito Kikuchi (菊池 一仁); Produced by Akimitsu Honma (本間 昭光) and Takashi Morio (守尾崇))
A Song for XX (Music by Yasuhiko Hoshino (星野 靖彦); Produced by Yasuhiko Hoshino (星野 靖彦))

From 1999's "LOVEppears":

TO BE (Music by D.A.I; Produced by Naoto Suzuki (鈴木 直人) and D.A.I)
Boys & Girls (Music by D.A.I; Produced by Naoto Suzuki (鈴木 直人) and D.A.I)
Fly high (Music by D.A.I; Produced by HΛL)
Who… (Music by Kazuhito Kikuchi (菊池 一仁) ; Produced by Naoto Suzuki (鈴木 直人)

From 2000's "Duty":

SEASONS (Music by D.A.I; Produced by Naoto Suzuki (鈴木 直人))

From 2001's "I Am…":

evolution (Music by Crea; Produced by HΛL)
UNITE! (Music by Crea; Produced by HΛL)
Dearest (Music by Crea and D.A.I; Produced by Naoto Suzuki (鈴木 直人))
Daybreak (Music by Crea, D.A.I and Junichi Matsuda (じゃがいも公爵); Produced by tasuku)
A Song is born (Music by Tetsuya Komuro (小室 哲哉); Produced by by Tetsuya Komuro (小室 哲哉))

From 2002's "Rainbow":

Free & Easy (Music by Crea and D.A.I; Produced by HΛL)
Voyage (Music by Crea and D.A.I; Produced by Ken Shima (島健))
independent (Music by Crea and D.A.I; Produced by tasuku)

From 2003's "Memorial Address":

From 2004's "My Story":

From 2005's "(Miss)understood":

fairyland (Music by tasuku; Produced by HΛL)
Ladies Night (Music by Roberto "Geo" Rosan; Produced by CMJK)
HEAVEN (Music by Kazuhito Kikuchi (菊池 一仁); Produced by Yuta Nakano (中野雄太) and KZB)

From 2006's "Secret":

From 2009's "Rock 'n' Roll Circus":

From 2011's "FIVE":

Why… (feat. JUNO) (Music by Kazuhiro Hara (原一博); Produced by Yuta Nakano (中野雄太))
… and from the latest album, 2012's "Party Queen":
| | |
| --- | --- |
| | nosebleed alert!!! |