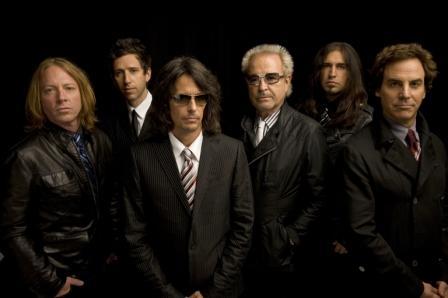 Foreigner is one of the great rock bands of the late 70s and 80s, having sold upwards of 70 million albums worldwide and scored numerous hit singles – most notably ballads such as "Waiting for a Girl Like You" (1981) and "I Want to Know What Love Is" (1984).
The band skillfully combines hard-hedged rockers with timeless ballads and always flawless production. Their current record company describes their style as "melodic hard rock" but in fact they are not easily pinned down and have incorporated keyboards, saxophone and even church choirs with the more traditional guitar-bass-drum rock formation...
Pictured: 2009 line-up, from left to right: Jeff Pilson (bass), Michael Bluestein (keyboards), Kelly Hansen (lead vocals), Mick Jones (guitars, keyboards), Brian Tichy (drums, now replaced by Mark Schulman), Tom Gimbel (guitars, saxophone)
Foreigner's leader and founder, guitarist-songwriter-producer Mick Jones, "wrote or co-wrote every Foreigner song, and produced or co-produced every album" (as per official website). He is the only member left from the original line-up. Co-founding member and vocalist Lou Gramm – featured on 7 of the band's 8 studio albums between 1977 and 1994, was replaced in 2005 by Kelly Hansen who sings on the 9th and latest studio album, 2009's "Can't Slow Down".
Can't Slow Down
Although Foreigner has come down the heights of its 80s popularity, this is a band that continues to look forward, produce great new music and put on a great live show. The current line-up is as strong as any and their latest studio album a truly great record – one of my personal favorite albums from the past decade as a matter of fact. First of all, "Can't Slow Down" is such a great title for a rock band that's been doing it for 35 years! The songs are great, both musically and lyrically. The production sounds current – and I really love the combination of keyboards and guitars, soft and hard. My favorite tracks from the album: "Can't Slow Down", "In Pieces", "When It Comes to Love", "I Can't Give Up", "Give Me a Sign", "I'll Be Home Tonight", "Lonely"… such a strong collection of songs: I strongly recommend it to anyone.
I've put together a video playlist on my YouTube channel:
… and of course, if you like Foreigner, you may also like this…