Congratulations to the Foo Fighters for winning 5 Grammys last Sunday (Best Rock Performance; Long-form Music Video; Hard Rock/Metal Performance; Rock Song; and Rock Album)
This is well deserved too – the Foos are in my opinion the greatest rock band currently in operation (not including KISS, which are in a category of their own!) and their latest album, 2011's "Wasting Light", an amazing record.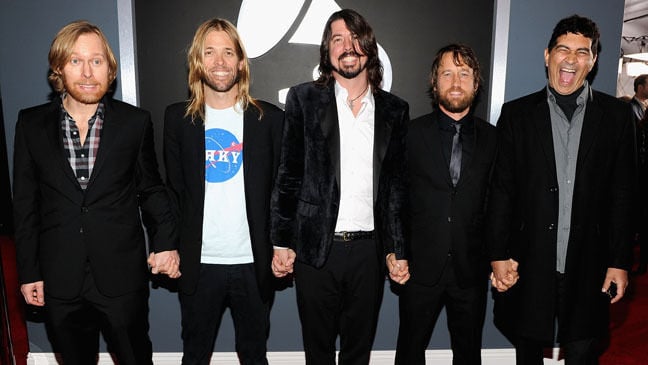 Pictured, on the red carpet at the Grammy's, 12 Feb 2012, from left to right: Nate Mendel (bass), Taylor Hawkins (drums), Dave Grohl (lead vocals, guitars), Chris Shiflett (lead guitar), Pat Smear (guitars)...
Dave Grohl
There are very few musicians who get to make a real impact in their career, let alone define a generation... Dave Grohl has done it twice, in two different bands and on two different instruments: first, as drummer for Nirvana – the band that defined 1990s rock – and since the mid 90s as leader/singer/guitarist for Foo Fighters – arguably the number one rock band of the past 15 years.
Style
The Foos have their roots in punk rock, and from this they have retained the raw energy, no-nonsense attitude, and a heavy dose of aggression – anger, even – particularly evident in Dave Grohl's vocal delivery. Their sound is mostly hard rock, sometimes of the heaviest kind ("White Limo"), sometimes more bluesy or pop-rock ("Walking After You", "Learn to Fly"), often with extreme contrasts between elements of quiet and excitation ("The Pretender"), and always with great melodies and musicality.
To me, it's this combination of raw energy and musicality, along with their humor and earnestness, which makes the Foo Fighters so special and enduring.
My Foo
I saw the Foo Fighters live only once, in one of their first appearances, on December 2, 1995, for the taping of Saturday Night Live at the NBC studios in New York. I have no good excuse for having missed their subsequent tours – a situation I plan to remedy the next time!
Having started on the drums myself, I always get excited when a drummer branches out to songwriting and production or steps up to the mike. That is certainly the case with Dave Grohl; it is also the case with Taylor Hawkins – literally – a drummer's drummer; both of them complete musicians, singers and songwriters. While the other members may be less in the spotlight, all share songwriting credits, contribute to the band's powerful and distinctive sound, and seem like a generally very tight unit.
Videos
On top of having great songs, the Foo Fighters also make great music videos – alternating between comedy gems ("Learn to Fly", "Breakout", "Long Road to Ruin", "Walk",…) and powerful live performance pieces ("All My Life", "The Pretender", "Rope",…) so here's a small playlist below and on my YouTube channel. If I had to pick one favorite, it would probably have to be "Learn to Fly" (great song + hilarious video feat. Jack Black and Tenacious D):