Welcome to my website!
2018! New track for Musicity x Sculpture in the City: "Inside Out"
Click here for details
Album "Back in the Groove"
also available as limited edition CD on CD Baby
Hello!
I am a London-based songwriter/producer and I created "SuperCool-Guy" as an outlet for my songs.
I will also use this site to blog about the music, songwriters and artists that I love.
I will be going through my music collection and mixing up a wide range of influences across decades, genres – including pop, rock, dance – and nationalities – from French pop to "J-pop" (Japanese), Scandinavian and of course British and American favorites. So check back often for some great stuff… and perhaps discover a few gems you've never heard before!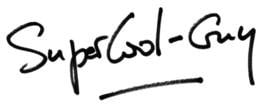 Sign up for the mailing list to be notified of new releases or follow me on your favorite social media platforms.